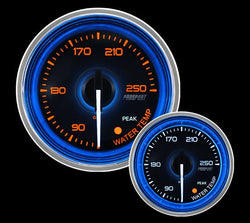 Scarles
Prosport Oil Temperature Gauge 52mm Crystal Blue Series
SKU: SCR PRS0056
Prosport Crystal Blue Water Temperature 52mm
Powered by a rugged Stepper Movement and utilizing only top grade sending units these 270degree full sweep electrical gauges are durable, reliable, safe and easy to install. Monitor your engine temperature with more precision.
Set the warning feature to any temperature you want to warn you before you smoke your motor!!
(100degree - 280degreeF includes Water Temp. Sender, Visor, Mounting Plate, quick connect pigtail wiring Decal and Instructions)
Scarles has a huge range of various gauges for your vehicle, whether you need to measure your boost levels, water temp or exhaust temperature we have you covered.