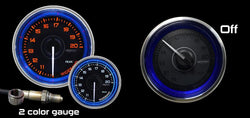 Scarles
Prosport Wideband Air Fuel Ratio kit 52mm Crystal Blue Series
SKU:
Complete Wideband Air Fuel Ratio kit Wideband Air Fuel Ratio Gauge
52mm (2 1/16")
Blue/White display-Blacked out when off.
0-5 volt output signal
Utilizing the latest Bosch wideband O2 sensor -5 wire heated LSU 4.9 our gauge now has the widest range 10.0:1 to 20.0:1 AFR readings on the planet.
This is a complete kit that includes everything you need:
AFR Premium Series Gauge
Bosch 4.9 5 wire heated O2 sensor
Weld in Bung
Instructions
Wiring harness(Gauge to O2 sensor) 10 feet long
Plug and play
0-5 volt output signal for data logging
0-1 volt output signal for your ECU
Scarles has a huge range of various gauges for your vehicle, whether you need to measure your boost levels, water temp or exhaust temperature we have you covered.