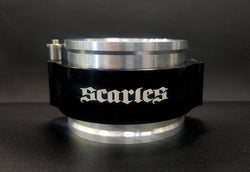 Scarles
2.5" Intercooler Pipe Clamp with PIN
SKU: SCR CLA0047
Introducing the Scarles Intercooler Pipe Clamp with PIN, the ultimate solution for secure and flexible intercooler connections in automotive applications.
This high-quality clamp system is designed to withstand extreme conditions and provide reliable performance.
Product Features:
'úÖ Solid Billet 6061 Aluminum Clamp Construction: Crafted from durable and lightweight aluminium for long-lasting strength and corrosion resistance.
'úÖ Burst Pressure Rating of 800 PSI: Built to handle high-pressure environments, ensuring secure connections under demanding conditions.
✅ Withstands up to 400° F / 204° C: Engineered to tolerate high temperatures commonly experienced in automotive applications.
✅ Black Finish.
✅ Allows for angular, axial, and radial movement: Provides flexibility to accommodate vibration, movements, misalignment, and deflection.
The Scarles Intercooler Pipe Clamp package includes:
'úÖ 2x Aluminum Weld Fittings (with O-Rings): Designed to be securely welded onto the tubing for a leak-free connection.
'úÖ 1x Hard Anodized Union Sleeve: Houses the fittings and ensures their stability with the clamp assembly.
'úÖ 1x Black Anodized HD Clamp: Features a spring-loaded mechanism for a strong grip and easy installation.
'úÖ 1x Locking Pin: Provides an additional safety measure to prevent accidental disconnection.
Crafted with precision and attention to detail, all Scarles intercooler pipe clamp products are constructed using high-grade 6061 aluminium alloy. Each component is machined with meticulous precision to ensure long-term durability and optimal performance.
Upgrade your intercooler connections with the Scarles Intercooler Pipe Clamp with PIN. Experience enhanced reliability and flexibility in your automotive system. Choose Scarles for premium quality and performance.