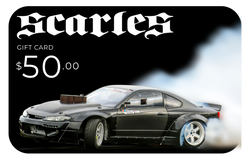 Scarles
Scarles Gift Cards
SKU: SCR GIFT50
Unleash the Power with a Scarles Performance Parts Gift Card!
Give the gift of high-quality performance upgrades to your car enthusiast friends and family. From steering wheels to intercoolers, seats and suspension, our parts are designed to enhance performance and take their driving experience to the next level.
Order now and boost their power and style on the road!