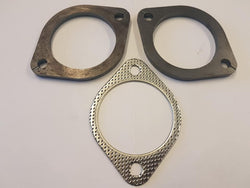 scarles
Manta 3" 2 Bolt Flanges & Gasket
SKU: 4WD MNPFE042EKIT
Manta 3" 2 Bolt Flanges & Gasket
Universal 2 Bolt Exhaust Flanges, Made from 8mm mild steel an easy solution for joining sections of exhaust pipes while making your own custom exhaust/downpipe setup. Gasket Included.
* Kit Includes x2 Flanges & x1 Gasket
* Thickness - 8mm Mild Steel
* Bolt hole measurement -106mm center to center
* 3" Inside Diameter
* Universal Fitment
Scarles'Ñ¢ offers a huge range of high quality multi layered turbo gaskets, from turbo gaskets, wastegate gaskets, manifold gaskets and head gaskets.