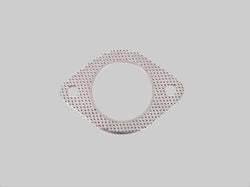 scarles
Universal 2 Bolt Exhaust Gasket 2.5"
SKU: 4WD MNPGMG093
Universal 2 Bolt Exhaust Gasket 2.5"
This is a replacement exhaust system gasket to suit most vehicles. When you remove your exhaust you always need to replace your gaskets or if your current exhaust gasket is leaking you need to use this product when replacing it with a new one.
• Suited for most applications that require a 2 bolt gasket
• Made from quality multi layered steel
• Sits between your exhaust pipe flanges.
• 63mm (2.5") inside diameter
• Overall length 105mm bolt hole to bolt hole
• Height of the gasket 95mm ( top to bottom )
Includes:
• x1 Gasket
Check out the rest of our range of gaskets, ranging from turbos, manifolds, exhausts, head gaskets etc. Inquiry about any gasket for the engine and we can see what we have.