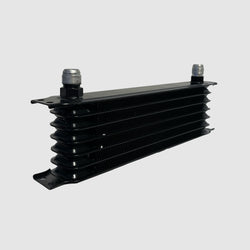 scarles
7 Row Oil Cooler
SKU: SCR OIL0006
Engine & Transmission Cooler - 7 Row Silver
Oil coolers keep your engine and transmission running cooler and improve performance and durability. Here are the main features of this 7 Row Engine & Transmission Cooler:
Easy to Install: You can install this oil cooler in any vehicle without much hassle. It sits in the front of your car and connects to your oil filter using our oil cooler fitting kits.

Versatile: This cooler can work with different fluids like water, engine oil, or transmission oil so that you can use it for various purposes.

Size: The dimensions of the oil cooler are 290mm x 90mm x 52mm (excluding the inlet/outlets). Overall the size is 170mm x 340mm x 50mm. The fittings are 7/8-14 (Dash -10), and it has 7 rows.

Warranty: It comes with a 12-month warranty to ensure its quality and reliability.
 Package Includes: One oil cooler.
Bonus Option: If you need help fitting it into your engine, we can provide an oil filter relocation kit that works perfectly with this oil cooler.