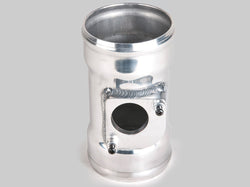 scarles
Air Flow Meter Adapter Pipe - Suits 2 Bolt MAF Sensor
SKU: SCR SIM0045
Simota Intake Pipe 3" to suit modern air flow meter sensors

When you need to put an aftermarket air filter in your late model vehicle and it doesn't use the air flow meter but uses that sensor part this item is for you. You remove your factory pipe out and this goes in its place. On one end you put the pod filter on and the other attaches to the intake pipe.

Example's of vehicles they will fit are the newer Subaru, Mazda, Toyota and Mitsubishi.
Application for vehicles models with the bolt on air flow sensor.
Sensor Mounting holes are 54mm centre to centre.
2.75" diameter pipe with 3" flared ends.
12 Month Warranty

Includes:
x1 Air flow meter pipe adapter

Scarles has a massive range of air intake products ranging from pod filter adapters to pod filters to aluminium intake pipes. We have you covered when it comes to your engine.