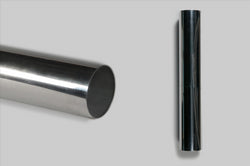 scarles
Aluminium Pipe Straight 2"
SKU:
Aluminium Intercooler Piping 2" outside diameter and 600mm in length

Scarles™ alloy is only the finest metal and with it comes a quality mirror polished finish. Universal intercooler piping is used to make up a custom intercooler kit to suit your vehicle, or custom air intakes. These can be cut, welded and connected together with silicon hose to do any air flow job. Being alloy it is light weight and keeps things cooler than mild steel or stainless steel would. We have bends and straight pieces of the universal piping to complete your project.

* We have sizes from 2" up to 4" in Alloy pipe
* Made from quality aluminium
* 2" outside diameter
* 600mm Length bend
*

Included:
* x1 aluminium pipe 600mm piece.

We have a range of high quality Flexi-Grip™ vaccum hose and silicone hose available to tidy up your engine bay and replace dried and old hoses. Sizes start from as little as 2mm inside diameter up to 20mm in vaccum hose and in silicone hose for intercooler piping it starts from 32mm / 34mm / 2" up to 4" inside diameter hoses.