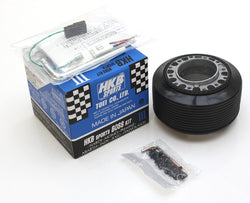 scarles
Boss Kit HKB Toyota Corolla E90 & Hiace
SKU:
HKB Japanese Toyota Corolla E90 & Hiace Boss Kit

HKB Japan is known worldwide as having the best quality boss kits in the market. When you purchase an aftermarket steering wheel you will be needing a boss kit so that you can use your steering wheel on your vehicle. You need to unbolt your factory steering wheel from your vehicle and place this boss kit in the place of your steering wheel and it should fit on snug. Once the boss kit is on you can bolt on the aftermarket steering wheel.

* HKB Boss Kits Fit: Toyota Windom V10, Carina T160,170, Corolla E90, Caldina T190, Corona T160 T170 T190, Supra G, M/A70, Celica T160 T200(needs spacer), Soarer Z20(needs spacer), Corolla II L30(needs spacers), HI ACE/Regius (H80 H140(needs spacer) and H100(needs spacer), Hilux Surf L35 LN130 LN185, Vista SV20 with cruise control, Cressida X80,
* High quality genuine HKB Boss Kit
* Casted to perfection
* Direct fitment
*

Included with the Boss Kit:
* Steering Wheel HUB Adapter (BOSS HUB)
* Wires to connect the horn
* Bolts and Allen Key

Scarles‰ă˘ has a range of high quality steering wheels in 350mm diameter and 280mm diameter, from flat base wheels from 75-90mm deep dish wheels.
Customer Reviews
10/26/2022
Sam H.

New Zealand
5
Great product thank you