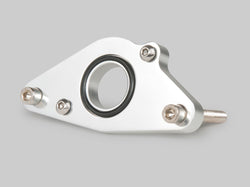 scarles
BOV Adapter Type-RS Subaru
SKU:
Greddy Type RS Blow of Valve Adapter Subaru Intercooler Adapter

At Scarles'Ñ¢ we service all types of blow of valves from a variety of brands, and with any blow off valve you need adapters to make them fit to most vehicles. Our Pipe adapter is to replace your factory blow off valve on your intercooler and this bolts in its place and then you attach your TypeRS style BOV in its place.

• Fits Subaru Impreza / WRX / Forester intercoolers 2000/2001 onwards. (GDB models)
• Suited for Greddy Type-RS Blow off valves
• Made from the finest alloy on the market
•

Included:
• x1 BOV adapter
• x2 Bolts

Scarles'Ñ¢ offers a range of boost controllers for your vehicle, ranging from manual tap boost controllers to our HDI incabin electronic boost controllers and world famous Gizzmo electrical boost controllers.