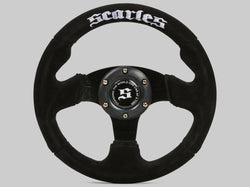 scarles
Box Racer Suede steering wheel 280mm
SKU: SCR STW007
Box Racer Suede Steering Wheel 280mm
The Scarles Box Racer is made from select cuts of premium suede. Hand-stitched with a minimalist logo etched onto an anodised frame to ensure only a quality finish. This is the perfect wheel where space is limited and you require a smaller diameter wheel to suit your vehicle.
Wrapped in premium suede
Diameter 280mm
Flat / Flush Wheel
Extremely Light
Universal fit
Extra grip
Included with the Box Racer Suede Wheel:
Anodised horn surround cover
Horn button & wiring
Steering Wheel
Scarles has a complete range of Boss Kits / HKB kits & steering wheel hubs available. Airbag, hicas & cruise control kits are all covered. Also offering Short and Tall Quick release kits for added security and seat access.

New here?
Customer Reviews
5
Great service with tracking number cheers team