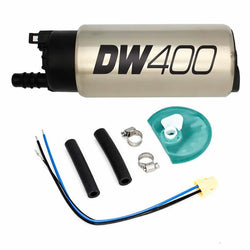 Scarles
DeatschWerks Fuel Pump - Intank Fuel Pump DW400 (415lph)
SKU: SCR DSW0020
DW400 series, 415lph in-tank fuel pump w /Universal Install Kit.
The DW400 is the highest flowing in-tank fuel pump on the market. Quiet operation and pulse width modulation
compatibility are delivered via the turbine impeller and computer balanced armature. E85 compatibility is built in via the carbon commutators and a fully encapsulated armature.
All DW fuel pumps are backed by a 3-yr no fault warranty.
Series: DW400
Flow Rate: 415lph