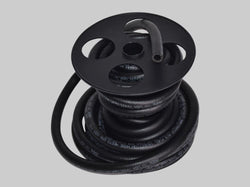 scarles
EFI FUEL HOSE 5/16 8mm PER FOOT
SKU: SCR FUE0028
Fuel line EFI FUEL HOSE 5/16 8mm sold PER FOOT - MADE IN USA

When you remove your factory fuel regulator in order to fit your aftermarket fuel regulator, you will need in most cases new fuel hose to install your new regulator. The inside diameter of this hose is 8mm or 5/16th and will suit most, if not all brands on the market that are running the barbed end. This is a high-quality EFI hose so it won't burst and fall to pieces like potentially other cheap quality items that are on the market.

 Use the line to fit your Sard/Tomei or any aftermarket fuel regulator onto your aftermarket fuel rail adapter
 Sold per foot and just select the exact quantity you require when purchasing this.
 This is high quality EFI hose - Made in the USA
 Can be used on Turbo or non-Turbo vehicles

Included:

 x1 foot of premium fuel line

Scarles has all your fuel system needs from our Walbro 500HP fuel pumps to our Sard fuel pressure regulators, we have you covered!