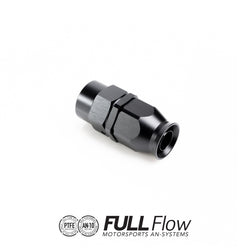 Scarles
Full Flow PTFE Hose End Fitting Straight AN-10
SKU: SCR NUK0143
Nuke Performance Full-Flow PTFE Hose End Fittings AN-10 Straight High quality, lightweight, full-flow hose end fittings for PTFE lined fuel hose.
Nuke Performance offers a wide range of hose ends. With the PTFE lineup, you get a perfect solution for all types of fuels, including alcoholic fuels such as ethanol.
Safe for all type of fuels, including ethanol
For Nuke Performance Full-Flow PTFE fuel hose
Aluminum olive insert included with all hose ends
Much longer life span than an ordinary fuel hose
The wide selection of hose ends from Nuke Performance is of the highest possible quality and is available in AN-6 to AN-12 size and in a variety ranging from straight to 180-degree versions. The Full-Flow PTFE fuel hose works as inexpensive insurance for your injectors, filters, and fuel pumps.
Hose End Series #: 810-01-106 - 810-18-112
Fuel Hose Series #: 820-02-106 - 820-02-612
Fuel compatibility: Gasoline, Methanol, Ethanol, E85, Racefuel, Diesel, Oil
Hose End Material: Anodized aluminum housing and olive
Fuel Hose Inner Liner: PTFE (Teflon) inner liner
Fuel Hose Braiding: Stainless steel and nylon
Temperature Range: -70°C to 250°C (-94°F to 480°F)
Conductive Inner Liner: YES
For Motorsport Use: YES