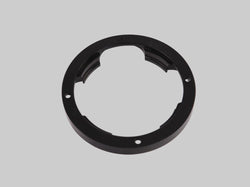 scarles
GKTECH RB clutch fan adapter
SKU:
Scarles is proud to be a stockist of world famous brand of GKTECH direct from the GKTECH factory. We have a large range in stock but can get ANY part you require from GKTECH within a few days if we don't stock it. Check out there site for their entire catalogue. www.Gktech.com
If you want to use one of our super dooper awesome clutch fans on your RB/VG series motor then you will need to use one of these billet aluminium adapters. The PCD, bore size and the offset all differ from the SR to the RB/VG but this adapter is hub centric and leaves only a 2mm offset variance when compared to your standard RB/VG clutch fan with the standard clutch. Ie. it means that the fan will sit 2mm's closer to the radiator when using our clutch fan with this adapter.
Our clutch fan is a proven performer with over 800 satisfied customers using these on the SR20's and compared to the RB/VG clutch fan you will see an increase in air flow of around 40% which is easily noticable the second that you install the fan.
Vehicle Compatibility:
- Nissan Skyline R31 RB30E
- Nissan Skyline R32 GTS-T
- Nissan Skyline R32 GTS4
- Nissan Skyline R32 GTR
- Nissan Skyline R33 GTS-T
- Nissan Skyline R33 GTS4
- Nissan Skyline R33 GTR
- Nissan Skyline R34 GT-T
- Nissan Skyline R34 GTR
- Nissan Cefiro A31
- Nissan 300ZX
NOTE: Will not fit VL RB30's as they use a different clutch pack to the R31 RB30 motor
To be used with the GKTECH fan from Scarles listed here https://www.scarles.co.nz/collections/gktech/products/gktech-srkarb-high-performance-engine-fan