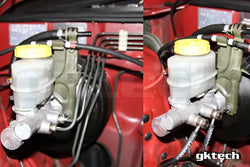 scarles
GKTECH Stainless steel braided teflon lined ABS Delete kit
SKU:
The ABS module on the Nissan's of the 90's are renown for being unpredictable, particularly when on track. The GKTECH ABS Delete line kits are an easy bolt-on solution to remove the complete ABS system on your vehicle.
We developed these kits after the frustration in trying to remove the ABS on our own cars. The normal route is to find a car without ABS and swap the master cylinder and all lines in the engine bay, however, these cars are becoming rarer by the day.
Our kit is super easy to install, simply remove the standard lines and plug them in. Total install time should be around 30 minutes.
The lines are assembled by us in-house in Australia using stainless steel fittings, stainless steel braided line with a Teflon inner tube and PVC outer for protection. They have passed independent testing and are marked as complying to FMVSS106 standards, ADR approved and are DOT compliant.
- Direct replacement of the standard hard lines
- Cleans up the look of the engine bay
- For race cars only, however, no permanent modifications are required.
NOTE: T-piece fitting will differ from photos shown here, the photo here is of our original prototype
NOTE#2: Now available for both LHD and RHD vehicles
Suits:
C33 Laurel
C34 Laurel
C35 Laurel
CEFIRO A31
R32 SKYLINE GTR
R32 SKYLINE GTS-T
R33 SKYLINE GTR
R33 SKYLINE GTS-T
R34 SKYLINE GT-T
R34 SKYLINE GTR
S13 CA18 180SX
S13 CA18 SILVIA
S13 SR20 180SX
S13 SR20 SILVIA
S14 200SX/SILVIA
S15 200SX/SILVIA