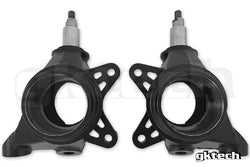 Scarles
GKTECH V2 SUPER LOCK R32/R33/R34/Z32 FRONT KNUCKLES
SKU: SCR GKT0149
The V2 GKTECH Super Lock R32/R33/R34/Z32 Front knuckles have been developed with the learnings from our previous V1 aluminium knuckles and we now present a light weight, sheet metal design after hundreds of hours of FEA (Finite Element Analysis) to improve the strength of the product but also keep the weight down.
With 65+ degrees of steering lock being able to be achieved with ease whilst keeping a linear steering response these knuckles are suited to drift or circuit racers.
Featuring:
- Spindle height raised for roll center and bump steer correction
- 65+ degrees of steering lock
- Lightweight (1.4kg lighter EACH)
- R32/Z32 and R33/R34 specific versions
- Linear steering response for optimal drive
Installation Notes
- For Z32 owners these knuckles are designed on using a J-arm top bearing with I.D of 28mm, this is 98% of all J-arms, but may be worth checking to ensure it is a straight fit. If not, the 28mm I.D bearing can be purchased and will be needed.
- Also for Z32 owners, these knuckles will only work with the use of either OEM S/R outer tie rod ends, or ours which can be seen here:
M14 Super adjustable inner tie rod
- Only suits RWD steering setups. GTS-4 and GTR front suspension setups are different and these knuckles will NOT work with them.
- When using R34 front brake calipers the mounting holes need to be drilled out from 12mm to 14mm (there is enough material to cater for the increase in hole diameter).
- Does NOT have a provision for ABS
Suits:
R32 SKYLINE GTS-T
R33 SKYLINE GTS-T
R34 SKYLINE GT-T
Z32 300ZX