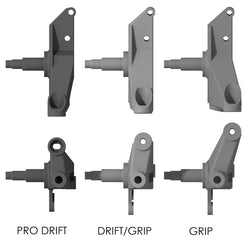 scarles
GKTECH V4 S13/180SX DRIFT/GRIP FRONT DROP KNUCKLES
SKU: SCR GKT0085
*NOTE* Currently is an order in product from GKTECH In Australia. Takes roughly 3-4 weeks
At Gktech we now have three different variants of our world-renowned front drop knuckles!
All of them are designed and build similar, sharing the following;
- Light weight
- Robust design
- S13/ S14 variations
- 4130 Chromoly
- CMM measured, CAD designed and FEA tested
- E-coated (Electrophoresis Coating)
We have tailored the knuckles to suit all types of motorsport that your S-Chassis is used for, the options we have are…
Drift/Grip knuckles
These have the best of both worlds, with the driveability that the grip knuckles have, the balljoint height has been lowered 50mm for roll centre and bump steer correction while also having around up to 60 degrees of steering lock available.
They have been designed with a linear steering response making them super smooth and predictable to drive with. They are still a super competitive knuckle to drive on in terms of drifting, but just don't have the extra edge the pro knuckles do (as seen below).
This knuckle is perfect for the all-rounder, who enjoys both Drifting and Grip/Time-Attack.
To get the maximum amount of rack travel and see the full potential with these knuckles we recommend the bolt on rack spacers if your rack is moved forward, otherwise, you may get steering bind. If it is not moved forward and is not something you are able to do, we do recommend the offset rack spacers which do move the inner tie rods forward, which mitigates bind and still offer the rack travel needed.
- Ball joint height lowered 50mm
- Lightweight (S13 version is 3kg and S14/S15 is 3.1kg)
- Provision for ABS sensor
All the listed knuckles are best suited to be used with our Super Lock LCA's
Suits:
S13 CA18 180SX
S13 CA18 SILVIA
S13 SR20 180SX
S13 SR20 SILVIA