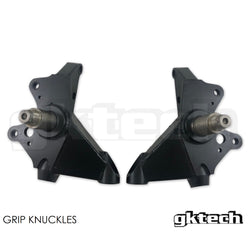 Scarles
GKTECH V4 S-CHASSIS FRONT DROP KNUCKLES Grip S14/S15
SKU:
Scarles is proud to be a stockist of world famous brand of GKTECH direct from the GKTECH factory. We have a large range in stock but can get ANY part you require from GKTECH within a few days if we don't stock it. Check out there site for their entire catalogue. www.Gktech.com
At Gktech we now have three different variants of our world-renowned front drop knuckles!
All of them are designed and build similar, sharing the following;
- Light weight
- Robust design
- S13/ S14 variations
- 4130 Chromoly
- CMM measured, CAD designed and FEA tested
- E-coated (Electrophoresis Coating)
We have tailored the knuckles to suit all types of motorsport that your S-Chassis is used for, the options we have are…
Grip knuckles
These have been specifically designed for Grip/ Time-Attack racing in mind, we have lowered the balljoint height 50mm for roll center correction while also lowering the steering mount 64mm for bump steer correction.
Being that they are Grip/ Time-Attack specific we have kept the OEM ackerman and OEM steering arm length, in the factory positioning.
- Ball joint height lowered 50mm
- Steering mount lowered 64mm
- Lightweight (S13 version is 3.1kg and S14/S15 is 3.2kg)
- Provision for ABS sensor
NOTE: Due to the 64mm of bump steer correction some tie rods may interfere with the inside of your rim. This is entirely dependent on both the inside diameter of the rim and the length/type of tie rod that you are running however as a general rule a 17" rim or larger will be required.