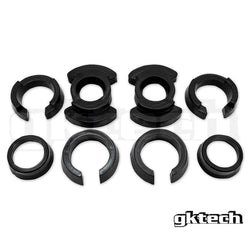 Scarles
GKTECH Z34 370Z/V36 SKYLINE REAR SUBFRAME SLIP-IN COLLARS SEMI SOLID
SKU: SCR GKT Z34CLLR (SEMI)
The GKTECH Z34 370z/V36 Skyline rear subframe collars are used to eliminate axle tramp and to also tighten up the rear end giving more precise control of the vehicle under harsh driving conditions.
The OEM bushes are designed more for comfort than performance and by filling the voids within the factory subframe bushes it makes the subframe much more "as one" with the car.
Noise isn't drastically effected compared to going to solid subframe bushes and these inserts are far easier to install than going to a solid subframe bush.
- 8 Piece Set
- Semi-solid are manufactured from proprietary 90sHA material
- Solid are CNC machined from a 6061-T6 aluminium
Suits:
Nissan V36 Skyline Coupe (2008-2013 only)
Nissan V36 Skyline Sedan (2009-2013 only)
Z34 370Z