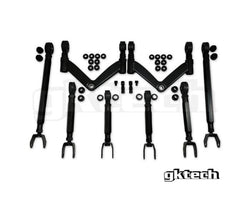 Scarles
GKTECH Z34 370Z/V36 SUSPENSION ARM PACKAGE (Order in)
SKU: SCR GKT0372
*NOTE* Currently is an order in product from GKTECH In Australia. Takes roughly 3-4 weeks
This listing is for the 4 main adjustable arms being camber, toe, traction and front upper camber arms!
All our arms feature high quality 5/8" Teflon lined pillow ball rod ends which eliminate the flex found in factory rubber bushing offering a more direct and predictable feel.
The rear arms are made from 6061-T6 Aluminium with a hexagonal shape all the way through for ease of adjustment while under the vehicle.
FRONT UPPER CAMBER ARMS
Our upper camber arms allow adjustment of the upper arm, fixing that issue. As well as eliminating the OEM rubber bushes, which allow zero flex and have zero chill when in operation. These are replaced with super smooth rose joints, allowing the arm to operate on its correct pane!
The GKTech V2 FUCA's allow for both camber caster and adjustment and new to the V2's is that they are adjustable in situ which will save you a load in setup costs.
REAR CAMBER ARMS
When you lower your car negative camber is introduced. This reduces the contact patch of your tyres and thus available traction. Our rear camber arms are a direct replacement of the OEM arm and will correct this issue.
REAR TOE ARMS
The lengths on these rear toe arms are fully adjustable to your specs when doing an alignment and with the right adjustments, straight line and cornering of your vehicle will be improved.
REAR TRACTION ARMS
They can be adjusted to eliminate bump steer and alter other rear suspension traction settings to improve suspension response. The lengths on these arms are fully adjustable and with the right adjustments, you can change the position and pitch of which the suspension rotates on, along with the amount of "anti-squat" of the rear.
NOTE: The toe arms require to use a true type coilover, where the spring is incorperated into the coilover body, rather then seperate as the OEM arms cater for.
Suits:
V36 SKYLINE
Z34 370Z