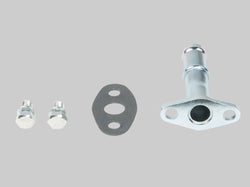 scarles
GT35 Oil Drain Pipe Kit
SKU: SCR TUR00169
Our high quality oil drain piping kits are used to fit onto many different application turbos, even if this specific one is listed for a certain turbo this will fit if the measurements are the same as a oil drain piping kit you require. They are required on all turbos as this drains the oil from the turbo. Instead of using a old factory drain pipe that may leak, upgrade to our high quality Scarles ones.

* High Quality Drain Pipe
* Comes with gasket
* x2 M8 Bolts
* Measurements of bolt holes M8.
* Measurements of Centre drain hole 16.5mm
* Measurements of bolt holes centre to centre 38/41mm
* Suited for GT25 , GT28, GT30 and GT35 Turbos.
* Will fit other similar sized drain pipes on turbos.