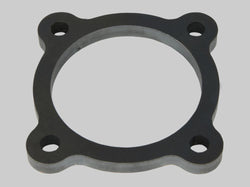 scarles
GT35 Turbo Flange 2.5" (63mm)
SKU: SCR FLA0007
GT35 Turbo Flange

When you are making up an exhaust system to fit your new GT35 turbo you will require this 4 bolt flange to bolt onto the back of the turbo and it will need to be welded onto the end of your exhaust. Made from high quality mild steel this will endure the high temperatures of the welding process.

• Suited for GT35 Turbos 2.5" (63mm)
• Made from high quality Mild Steel
• Can be welded to Stainless Steel
• 11.35mm Thick

Included:
• x1 Garrett GT35 rear turbo flange

Scarles'Ñ¢ offers a huge range of high quality multi layered turbo gaskets, from turbo gaskets, wastegate gaskets, manifold gaskets and head gaskets.