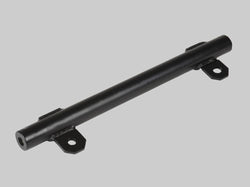 scarles
Hicas Lock Bar Nissan S13 & R32
SKU: SCR SUS0002
Hi cas lock bar for Nissan Skyline R32 & Silvia S13 180sx / 200sx - connects onto the rear diff.

A lot of Nissan vehicles come out with a 4 wheel steer system, which means the rear wheels will slightly turn as well when you turn the steering wheel. However this is not ideal when you are using your vehicle for drifting, track use or if you just want to get rid of that system all together. This hicas lock bar will remove the factory pump that is bolted up to the rear of the diff and bolt in place to prevent the rear wheels for further moving left and right.

• Rear Hi-cas Lockbar for any vehicle that has Hicas (4 Wheel Steering System)
• Fitment for Nissan Skyline R32 , Nissan Silvia S13 , Nissan Laurel C33 , Nissan Cefiro A31
• 12 Month Warranty

Includes:
• x1 Hi-cas Lockbar

Scarles'Ñ¢ are the distributors of D2 coilover suspension and partner them with this bar you have a match made in heaven for stability of your vehicle and comfort!