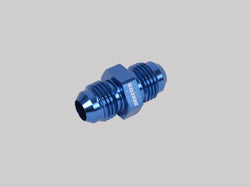 scarles
Hose Fitting AN6 Flare Union
SKU: SCR HOS0052
AN Flare Union Aluminium Fitting ( AN )

After a few years of R&D on finding the best quality fittings Scarles has now released a massive range of hose fittings and can order any fittings we don't have in stock within 2 weeks. These are perfect for your oil or fuel system setup in your vehicle and can be easily changed when needed! These really look amazing and are made of the highest qualities.

• Made from lightweight forged 6061 aluminium
• AN to AN Reducer flare fitting
• Anodized Red and Blue
• Reusable & easy to fit
• Size: Flared Male to Male Straight -6 ( Dash 6 )

Check out all our listings for the hose fittings we do now offer and have in stock, we have a massive range!