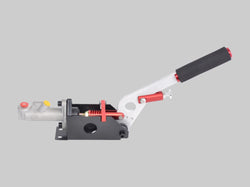 scarles
Hydraulic Handbrake
SKU:
Drift / Rally & Track use Hydraulic Handbrake

This product is for D1 , Rally , Track use. It is Oleo systems, the rear wheel can be fully locked easily by hand pull, and makes the wheel side slip, this product can keep its main function when the vehicle modify to the 2/4/6 pistons, and the horizontal type design doesn't need to disassemble the any internal parts.

• Has a locking mechanism on it to hold the handbrake in a certain place if needed (just like a normal handbrake)
• Easily able to lock up the wheels quick and fast.
• Quick release handbrake system
• Highest Quality Material
• 12 Month Warranty

Included:
• x1 Handbrake
• x1 Slave cylinder for the oil.

Scarles has special drift handbrake buttons for Nissan vehicles, that slot over the factory button and works like this but an alternative option.