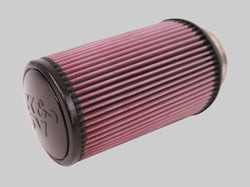 scarles
K&N Pod Filter Universal 4" - RE-0870
SKU:
K&N Replacement Panel Air Filters to suit a variety of vehicles.
Every vehicle is fitted with an air filter and generally they are the panel type, when replacing your filter or wanting increase in performance why not go for the world famous brand and the best filter in the world, K&N. Scarles has a wide range of filters available and you can order any part number you need from K&N at no freight additional cost.
K&N's Universal Air Filters are designed and manufactured for a wide variety of applications including racing vehicles, radio-controlled cars, generators, snowmobiles, tractors, and other applications. Regardless of the angle or offset diameter of the air intake, there is probably a K&N Universal air filter for your equipment. All filters are constructed with ultra-strong molded pliable rubber flanges which absorb vibration and allow for secure attachment and can also be stretched for up to 1/16 of an inch (1.5mm) to fit in-between sizes. K&N universal air filters are washable and reusable.
• Part Number: RE-0870
• Fitment: Universal
• Filter Material Cotton Gauze
• Flange Inside Diameter 102mm
• Flange Length 44mm
• Height 229mm
• Base Outside Diameter 152mm
• Top Outside Diameter 117mm
• Top Style Rubber
• Air Filter Large End Diameter 152mm
Includes:
• x1 Air Filter
Scarles'Ñ¢ are the distributor of K&N Air filter's & AEM intakes in New Zealand and have a huge range, if we don't have a part number or item from K&N you require just message us and we will sort you out.