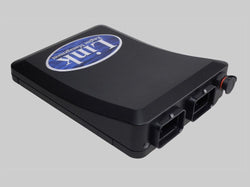 scarles
Link ECU Toyota Supra 2JZ (Non VVTI) PlugIn
SKU: SCR LNKTS2JZX
The Link G4X SupraLink TS2JZX
This ECU will support naturally aspirated, parallel twin or single turbo configurations.
PlugIn fits the Toyota Supra 2JZ non VVT. The ECU is a direct fit in the factory location.
Installation of Link's Toyota Supra TS2JZX ECU is a breeze - no alteration of the factory wiring loom is required. A built-in connector provides additional inputs and outputs such as oil pressure inputs or anti-lag / logging switches.
Factory features are supported - see Features for any exceptions.
Manual transmissions only, automatic transmissions not supported.
MAP Sensor not included.
G4X PlugIn Key Features (where applicable)
Up to 6D fuel and ignition mapping
Precision closed loop cam control (four cam, independent control)
Sequential fuel delivery
Digital triggering, all OEM patterns
OEM idle hardware supported
5D boost control with three switchable tables
Motorsport features - antilag, launch, flat shift
Continuous barometric correction (on board)
CAN port
QuickTune - automated fuel tuning
Individual cylinder correction
USB tuning cable included
Stats recording into on-board memory
Gear compensations for spark, boost and fuel
Real time selectable dual fuel, ignition and boost maps
Sync and crank sensors can be a combination of Hall effect, variable reluctance or optical
Boost control referenced to gear, speed or throttle position
512 megabytes data logging
Staged injection
Knock with "windowing"
Scarles'Ñ¢ has all your fuel system needs from our Walbro 500HP fuel pumps to our Sard fuel pressure regulators, we have you covered!