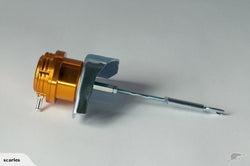 scarles
Mitsubishi EVO 10 Turbo Actuator
SKU: SCR TUR0060
Mitsubishi Evolution X Adjustable 0.9-1.7BAR Billet Turbo Actuator
PLEASE NOTE: We order these actuators in for you when you purchase them, we do not hold stock. These take approximately 2 weeks to arrive once purchased.

Scarles billet actuators are one of the best quality and performance actuators on the market. They have a high boost adjustment range from 0.9BAR (13PSI) to 1.7BAR (24PSI) so you can safely run that higher boost without those unwanted boost spikes and without the need to run an external wastegate. Very simple to install and fit onto your factory turbo. Made from the finest billet aluminium.

'Äö'úÖ Might need slight adjustment to fit onto some models of Evolutions, very simple to do tho.
'Äö'úÖ Bolts onto the side of factory Mitsubishi EVO 10 turbos.
'Äö'úÖ Could fit onto other turbos by the mounting bracket
'Äö'úÖ Adjustable from 0.9 BAR to 1.7 BAR (13-24PSI)
'Äö'úÖ Made from high quality billet aluminium
'Äö'úÖ 12 Month Warranty

Included:
'Äö'úÖ x1 adjustable actuator

Scarles offers a huge range of boost gauges in a number of different series from Prosport. Starting from the basic white face gauge up to the higher end digital series!