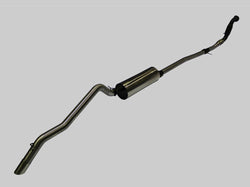 scarles
Manta Cat-Back Exhaust FORD FALCON 2002 - 2008 - Medium *SCARLES*
SKU: 4WD MNPMKFD0105
Ford Falcon 2002 - 2008 Manta Pro Performance Exhaust Systems
NOTE: These systems are made to order in Australia then shipped to us, please allow 3-4 weeks for delivery.

Manta Exhaust systems are ideal for anyone looking to get more performance out of their vehicle or who simply want to upgrade their factory OEM set up for a better free-flowing system. Upgrading your exhaust set up to a Manta Performance System has several benefits. By derestricting your whole exhaust system using mandrel bends, high flow catalytic converter and a straight through muffler, you will see an increase in power and torque. Reduced exhaust gas temperature and faster turbo response aid in both the turbo and engine being able to operate at cooler temperatures, while the high flow muffler and straight through pipe design increase performance whilst ensure exhaust noise if not overly excessive.

The Manta Exhaust System comes in either aluminised steel or stainless steel and is designed to mount straight to the existing factory mounting points making the system a straight bolt in retrofit.

Fitment:
* FORD FALCON BA, BF 5.4L V8 Sedan 2002 - 2008 With Barra 3 Valve Motor (Exhaust exit twin out driver's side only. For dual left & right exit, see product listing below)
* Manta Pro Australia Part Number: MKFD0105

Specifications:
* Exhaust system from 2.5Ó DUAL CATBACK EXHAUST
* Diesel Catalytic Converter Included: N/A
* Material: Aluminised Steel
* Exhaust Size: 3"
* Muffler Type: HOTDOG
* Exit Type: STANDARD
* Sound: MEDIUM, centre hotdogs & rear muffler

* Various options/variations available for this vehicle, enquire for further details (full stainless steel option available also).