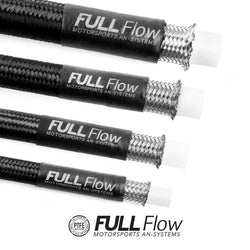 Scarles
Nuke Black Nylon PTFE Stainless Braided Fuel Hose AN-12 1M
SKU: SCR NUK0141
Nuke Performance Black Nylon PTFE Stainless Braided Fuel Hose. Available in AN-6, AN-8, AN-10, and AN-12. High quality, lightweight, full flow fuel hose for PTFE hose ends.
Nuke Performance offers a wide range of PTFE hose ends and fuel hoses. With the PTFE lineup, you get a perfect solution for all types of fuels, including alcoholic fuels such as ethanol.
Safe for all type of fuels, including ethanol
For Nuke Performance Full-Flow PTFE hose ends
A number of heat shrink sleeves included
Much longer life span than an ordinary fuel hose
The wide selection of hose ends from Nuke Performance is of the highest possible quality and is available in AN-6 to AN-12 size and in a variety ranging from straight to 180-degree versions. The Full-Flow PTFE fuel hose works as inexpensive insurance for your injectors, filters, and fuel pumps.
Nuke Performance PTFE Hose End / Fuel Hose Specifications:
AN-12 Hose Series #:820-02-112 - 820-02-612
AN-12 Hose Ends #: 810-01-112 - 810-18-112
Fuel Compatibility: Gasoline, Methanol, Ethanol, E85, Racefuel, Diesel, Oil
Heat Shrinks Included: 1m=2pcs / 2m=2pcs / 4m=4pcs / 6m=4pcs
Fuel Hose Inner Liner: PTFE (Teflon) inner liner
Fuel Hose Braiding: Stainless steel and nylon
Temperature Range: -70°C to 250°C (-94°F to 480°F)
Conductive Inner Liner: YES
For Motorsport Use: YES
AN12 Operating Pressure: 90 BAR (1300 PSI)
AN12 Burst Pressure: 350 BAR (5000 PSI)
AN12 Inner Diameter: 16.2mm (0.64")
AN12 Outer Diameter: 19.3mm (0.76"