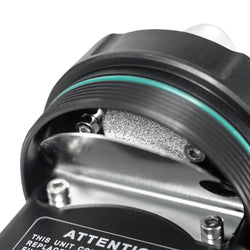 scarles
Nuke Competition Oil Catch Can 500mL Baffled
SKU: SCR NUK0027
Nuke Performance universal dual inlet Oil Catch Can 0.5 liter version with the unique dual filtration.
Universal Dual inlet Catch Can with the unique dual filtration design. Now equipped with dual AN-10 ORB inlets for easy adaptation and installation. Dual filtration breather for competition and motorsports usage as well as for street and tuning usage. Can be used for both atmospheric and recirculating setups.
Dual AN-10 inlets, choose between single or dual inlet
Stainless Steel filtration media
Made in Sweden
300micron Stainless Steel filtered outlet
Anodized dip stick for easy reading of internal level
Now with AN-10 ORB, for the highest possible flow
Competition Catch Can 0.5 liter Specifications
For more information about specifications, contact us directly.
Catch can capacity: 0.50 liter (0.53 qt)
Inlet ports / threads: 2 x AN-10 ORB - view assortment
Outlet port / thread: 1 x AN-10 ORB - view assortment
Filtered outlet port: YES, 300-micron filter disc
Internal filtration: YES, stainless steel filtration media
Drainage port / thread: 1 x 1/4 BSPP, plug included
Included bracket: YES, 360° rotatable stainless steel bracket
Dipstick: YES, aluminum dipstick included
Height *: 159.5 mm (6.28")
Width: 89 mm (3.50")
Depth: 108.5 mm (4.27")
Weight *: 1200 g (2.64 lb)
Setup available: Recirculating / atmospheric use
Part #: 260-01-202
EAN: 7340209501339
* without included / additional fittings
** Meets dictated regulations including SCCA, NASA, Formula D
Nuke Performance Competition Catch Can 0.5 / 1.0 liter Includes:
1 x 0.5 / 1.0 liter capacity catch can
1 x 360° Rotatable stainless steel bracket
1 x AN-10 7/8 UNF Atmospheric trumpet (for atmospheric use)
1 x 300-micron filter disc for the outlet port
1 x Internal Billet Filtration Unit with stainless steel filtration media
1 x 1/4 BSPP Plug