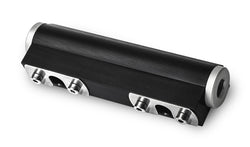 Scarles
Nuke Fuel Log Collector 4P 2x Walbro GSL392
SKU: SCR NUK0086
To effectively as possibly accommodate all functions of a developed fuel system setup without compromising quality or performance.
Our Fuel Log is developed to handle dual fuel pumps, dual Nuke Performance fuel filters or in combination with one fuel filter and one fuel pump. Designed to work perfectly with our Universal Bracket. Makes a solution you can rely on in any situation.
100% E85 Proof
Combines two units into one fuel line
Lightweight motorsports fuel log
AN-8 fittings included
Made in Sweden
For Bosch 044 fuel pumps and more
Available for several setups:
100-10-202 : Collector for 2x Bosch 044 style Fuel Pump
100-10-204 : Collector for 1x Bosch 044 and 1x Nuke Fuel Filter Slim
100-10-203 : Collector for 2x TiA Walbro GSL392 Fuel Pump
100-10-205 : Collector for 1x TiA Walbro GSL392 and 1x Nuke Fuel Filter Slim
100-10-206 : Collector for 2x Nuke Fuel Filter Slim (AN-10 ORB)
Make sure to choose setup when ordering!
The 4 port solution also gives you the ability to make any setup you may possibly need. The two main inlet ports on the long side are delivered with our unique brackets that ensure all connections will be reliable even when an accident occurs. Choose between the different setups to accommodate the parts you want to combine into one fuel line.
Technical information :
• CNC manufactured from aluminum alloy 6063.
• Anodized for lasting performance and finish.
• Delivered with 1x 3/4 AN-8 and 1x 3/4 Plug.
• Comes with all adapters needed for chosen setup.
• Laserengraved.
Measurements :
Height : 36 mm
Width : 144 mm
Depth : 33 mm
Weight : 229 g
* All measurements including the supplied fittings.