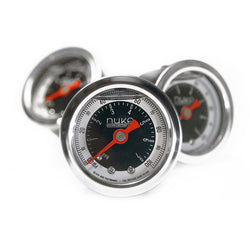 Scarles
Nuke Fuel Pressure Gauge 7 BAR / 100 PSI
SKU: SCR NUK0053
Nuke Performance Liquid Filled Mechanical Fuel Pressure Gauge with a 35mm white and black face with red needle for easy and accurate reading.
A high accuracy fuel pressure gauge with 0-100 PSI and 0-7 BAR, easy to read scale. Housed in a chromed body, filled with liquid that helps the needle from the vibrations from the engine, this gauge is of the highest quality and really durable design.
Reads from 0-100 PSI and 0-7 BAR
Dual scale black and white design
Waterproof body and durable glass lens
E85 Proof - safe for alcoholic fuels
Nickel-plated 1/8 NPT thread
The pressure gauge is offered with a 0-100 PSI / 0-7 BAR accurate scale and is perfect for monitoring your fuel pressure in your carburettor, TBI and EFI vehicle. The gauge is installed directly to your fuel line with the 1/8" NPT thread attached to the back of the fuel pressure gauge, fits directly to most common FPR´s as well as the Nuke Performance fuel pressure regulator range. For universal mount along the fuel line, use the Nuke Performance AN Fuel Line Gauge Adaptor.
Partno: 310-02-101
Manufactured in the US.
Quantity: 1pc
Technical information :
• Nickel plated male 1/8″ NPT fitting.
• The scale reads from 0 to 100 PSI and 0 to 7 BAR with +/- 2% accuracy.
• Stainless steel case and bezel.
Measurements :
Thread : 1/8 NPT
Depth : 48 mm
Diameter : 44 mm
Weight : 77 g
* All measurements including the supplied fittings.