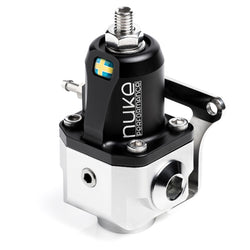 Scarles
Nuke Fuel Pressure Regulator FPR100x AN-10
SKU: SCR NUK0052
Nuke Performance FPR100x Fuel Pressure Regulator: Redefining power of motorsports fuel management.
A real beast in a lightweight design. This is an ethanol-proof AN-10 fuel pressure regulator with a slim design and easy-to-mount stainless steel brackets. Every unit is thoroughly tested before delivery, with unmatched functionality and the same high quality as always.
Extreme motorsports regulator
Approved for 2000hp+
Safe for petrol, methanol, and ethanol
Every unit is performance tested
Adjustable up to 120 PSI (8 bar)
1:1 boost reference
Stainless steel mounting bracket
AN-10 ORB inlets/outlet
The most reliable and highest performing 1:1 boost reference solution to bring together simple or complex fuel systems for all types of tuning or motorsports engine setup. Redesigned with precision functionality in focus.
Fuel Pressure Regulator FPR100x AN-10 Specifications:
For more information about specifications, contact us directly.
Pressure range: 2 - 8 BAR (30 - 120 PSI)
Boost reference: 1:1
Horsepower rating: 700 - 2000+ HP
Free fuel flow rating: 1000 LPH
Fuel compatibility: Gasoline, Petrol, Methanol, Ethanol
Inlet thread: Dual AN-10 ORB, view range
Outlet thread: Single AN-10 ORB, view range
Gauge port: 1/8 NPT
Vacuum reference port: 1/16 NPT
Diaphragm: 46mm Fibre-enhanced nitrile membrane
Height: 115-127mm (4.52-5.00")*
Width: 57mm (2.24")
Depth: 49mm (1.93")
Weight: 481g (16.97oz)
Ball-Bearing adjustment: ≈0.14 BAR (≈2 PSI) / turn
* depending on set pressure
Nuke Performance Fuel Pressure Regulator FPR100x AN-10 Includes:
1 x 10AN ORB plug for the additional inlet
1 x 1/8 NPT plug for gauge/sensor outlet
1 x 1/16 NPT Barb fitting for 5mm vacuum hose
1 x Stainless steel mounting bracket
2 x Stainless steel bolts for the mounting bracket