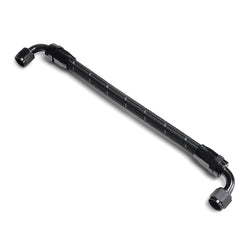 Scarles
Nuke GM LS Front Hose Kit / Plumbing Kit AN-8
SKU: SCR NUK0062
Nuke Performance LS engine fuel rail front hose kit
Optional AN-8 braided fuel hose cross over - plumbing kit for the LS engines.
Made to work with the Nuke Performance LS fuel rail, Partno: 100-07-203.
100% safe for alcoholic fuels such as ethanol and made for demanding motorsports usage.
If wanted we provide this easy setup for a front mount hose kit / plumbing kit that makes a true bolt-on solution for installation for the LS engine range. Comes with 2x AN-8 90° hose ends with an E85 proof braided fuel hose.
A lightweight and convenient option for fast and secure installation.
Quantity: 1 kit