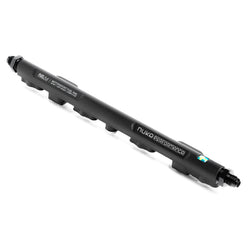 Scarles
Nuke Honda 4cyl K Engine Motorsports Fuel Rail - Bolt-On
SKU: SCR NUK0063
Nuke Performance Honda DOHC i-VTEC K Engine Motorsports High-Performance Fuel Rail
Honda K series engine 4cyl high-performance bolt-on Motorsports Fuel Rail kit for all DOHC i-VTEC K-Series engines (K20, K24). Motorsports, lightweight fuel rail with unique injector safety clips that fit straight on the intake without heavy modifications. 100% safe for alcoholic fuels such as ethanol, E85.
Lightweight motorsports fuel rail
Unique injector safety clips
Made in Sweden
100% E85 Proof
Delivered with AN-8 fittings
Bolt-on fitment, everything is included for :
• Honda K Engine K20 / Honda K Engine K24
Give your engine over-dimensioned fuel flow for serious power outtake and the looks that are the Nuke Performance signum. Designed to look awesome and perform even better, this motorsports-grade fuel rail is the market-leading Honda K-series fuel rail with the most functionality and delivered with unique injector safety clips and bolt-on brackets for a safe and easy mount to this popular 4cyl engines from Honda. This is the new motorsports range of fuel rails from Nuke Performance, their lightest fuel rails ever with a new line of fittings and injector safety clips.
Made in Sweden, guaranteeing the highest possible quality
The Honda K engine motorsports fuel rail is developed, designed and manufactured by Nuke Performance for the highest possible quality and with the same hallmark as all the other parts in the lightweight motorsports range. There is no substitute for the quality of Nuke Performance!
Honda 4cyl K Engine Motorsports Fuel Rail includes:
1 x Motorsports Fuel Rail, 4cyl
2 x Aluminum lightweight brackets
4 x Stainless steel M6*8mm for brackets
2 x 3/8 NPT to AN-8 Male fittings
1 x 1/4 BSPP plug
4 x Injector safety clips
8 x Stainless steel M4*6mm for safety clips