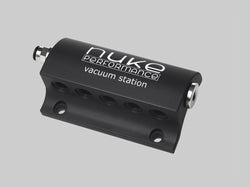 scarles
Nuke Vacuum Station 5 Outlets
SKU: SCR NUK0004
The Nuke Performance Vacuum Station / Vacuum Manifold is the easiest way to eliminate too many vacuum hoses in the engine bay. Combine all your parts with the need for a vacuum reading into one line connected to the manifold.
The classic Nuke Performance Vacuum Station 5 outlets with integrated mounting points for an easy and safe installation. 2 x 1/4" BSPP inlet and 5x 1/8" BSPP outlets give you a versatile selection to choose from.
Integrated mounting points for safe installation
2x 1/4" BSPP inlet ports
5x 1/8" BSPP outlet ports
Lets you use only one line to your intake manifold
Cleans up your engine bay
Connects all your engine parts that need a vacuum reading with one single line/hose to your intake. With the versatile vacuum station from Nuke Performance, it has never been easier to clean up your engine bay from additional hoses and tubes. Connect a single vacuum line / vacuum hose to the intake and use the 5 ports of the Vacuum Station 5 outlets from Nuke Performance to connect to all the parts that need a vacuum reading such as your fuel pressure regulator, blow-off valve, wastegate, fuel pulse damper, and ECU.
Vacuum Station 5 outlets specifications :
For more information about specifications, contact us directly.
Part number: 600-01-201
EAN: 7340209501865
Inlet thread: 2 x 1/4 BSPP
Outlet thread: 5 x 1/8 BSPP
Integrated brackets: YES
Length: 119 mm (4.68") *
Height: 60 mm (2.36")
Depth: 35 mm (1.38")
Weight: 303 g (0.67lb) *
For motorsports use: YES
* Measurements including the supplied fittings
Nuke Performance Vacuum Station 5 outlets include:
1 x Vacuum station manifold
1 x 1/4 BSPP Quick Connect to 6mm line
1 x 1/4 BSPP Plug