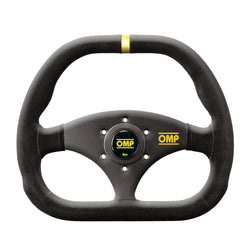 Scarles
OMP Kubik Steering Wheel
SKU: RCP OMPSTEOD1985NN
OMP Kubik Steering Wheel
Flat steering wheel in suede, 3 black anodized aluminium spokes with flat top and bottom anatomical rim, as used in professional Touring car competitions. Supplied with horn button. Very extreme and aggressive look.
Diameter: 310 x 265 mm.
Handgrip: oval 35 x 28 mm.
Visit the Racer Products website for a range of OMP products.