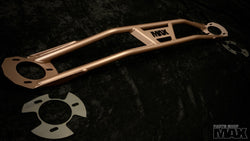 Scarles
Parts Shop Max E46 Front Strut Tower Bar
SKU: SCR PSM E46STB
Parts Shop Max E46 Front Strut Tower Bar
Scarles is the NZ Home of Parts Shop Max!
We 3D laser scanned several cars and motors, and then CAD designed this strut tower bar for maximum clearance and strength to cure classic issues with BMW's destroying themselves after coilovers are installed.
Laser-cut plates and laser notched tubes are both CNC bent for accuracy before going into our automated robot welding for the stitch pulse MIG process which has very consistent heat penetration and low spatter.
Finally, we powder-coat the bar with the signature copper metallic while the base plates that space the bar assembly off the humps on top of the strut towers are coated in steel-it for weldability.
Bolt-on installation is easy after you pop the battery jump lead out of its slot and zip-tie it nearby.
The bars are placed very close to the hood for maximum engine swap clearance.