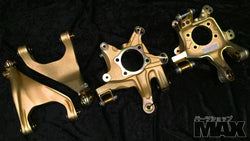 Scarles
Parts Shop Max FRS BRZ GT86 Rear Upper Control Arm
SKU: SCR PSM ZNC6RUCA
Parts Shop Max FRS BRZ GT86 Rear Upper Control Arm
Scarles is the NZ Home of Parts Shop Max!
This listing is just for the Upper Arms in the photo, not the knuckles
Correct suspension geometry on lowered cars OR use this to go even lower if your coilovers are already maxed out low!
**This set must be paired with MAX Toe rods (Toe is sold separately since they're also compatible with the OEM knuckle).
The unique shape of our RUCA and the relationship between the drop knuckle and upper arm is built for clearance, enough for the 1000hp axles & hubs from Driveshaft Shop.
The OEM RUCA ball joint gets maxed out when the car is lowered, and its downward-facing hardware would run into the axle in our drop knuckle so the joint orientation is completely changed in our knuckle/arm set.
Our design will allow your suspension to droop and compress without binding as the stock suspension would.
You can add a little more negative camber or take out a lot for superior drifting traction & tire wear (-10mm to +50mm length Upper arms).