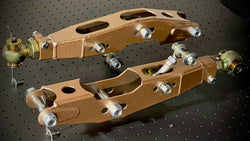 Scarles
Parts Shop Max XE10 IS300 / JZS16X GS Rear Lower Control Arms
SKU:
Parts Shop Max XE10 IS300 / JZS16X GS Rear Lower Control Arms
Pair of CAD designed, Laser cut, CNC press brake bent & Robot welded Rear lower control arms have two inches of adjustment per side with the CNC clamping rod end receiver, Forged rod end & clamping double threaded adjuster for on-car camber change.
Sway bar links are included in addition to Coilover and Knuckle mounting hardware.
Fits 98-05 Lexus IS300 and Toyota Altezza. 97-04 Lexus GS and Aristo JZS16X.
** Does not have a tab for auto-leveling headlight sensors.
The Swaybar hole needs to be slightly drilled to 7/16" to fit these end links.