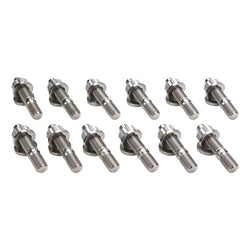 Scarles
PROFLOW EXHAUST MANIFOLD STUD KIT, TITANIUM, FOR FORD FALCON BA-FG
SKU: SCR PF PFETI-EXSTUD-XR6
PROFLOW EXHAUST MANIFOLD STUD KIT, TITANIUM, FOR FORD FALCON BA-FG, BARRA 4.0L, XR6 TURBO, M10X1.50
Manufactured from Ti-6Al-4V Grade 5 titanium, Proflow's titanium exhaust manifold stud kits for the most popular engines are a perfect upgrade over your factory studs when chasing some big power!
It is common for the factory manifold studs to come loose and fail over time due to the heat cycles produced by the cylinder head, and this can become a bigger issue especially when you are using aftermarket bolt-ons such as upgraded turbochargers.
These studs come with washers and 12-point nuts which provide a larger clamping force, achieved by the bigger washer diameters, decreasing the chances of these studs vibrating loose over time.
They also incorporate a hex key tip that allows them to be easily installed using an Allen key.
The Process: Each stud begins as a solid bar of titanium, which is then heat treated and forged into shape before they undergo machining to our exact specifications.
The threads of each stud are then cold-rolled, which is a work hardening process that increases the stud's yield strength and hardness.
Finally, they are polished to create that great-looking shine! The titanium also emits fantastic anti-corrosion properties, making these studs a great long-term choice when fastening your turbo exhaust manifold.
Note: Anti-seize must be applied to all threads when fastening the manifold. Please check clearance on your manifold prior to purchase.
Scarles has taken on the ProFlow Range and are starting to stock a limited Range. https://proflownz.co.nz/ check out what they stock and we can get in whatever you need