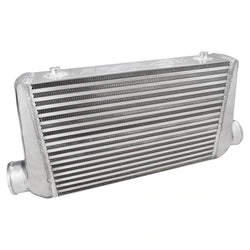 Scarles
PROFLOW INTERCOOLER, BAR & PLATE, 450 X 300 X 76MM, 3.0'' OUTLETS, *SCARLES*
SKU: SCR PF PFEIC450300
PROFLOW INTERCOOLER, BAR & PLATE, 450 X 300 X 76MM, 3.0'' OUTLETS, ALUMINIUM, UNIVERSAL, NATURAL
Core Design Proflow's universal intercooler units feature a high quality bar & plate construction, maximising heat transfer by increasing fin surface area to efficiently and effectively reduce intake temperatures.
Many intercooler core designs usually consist of straight channel, low density fins in an aim to keep pressure drop low. In contrast, overly dense fins increase cooling effect but drastically increase pressure drop.
Proflow's bar and plate fin design offers a balance of excellent cooling while limiting pressure drop across the core, preventing the turbocharger from working excessively harder.
The end tank design promotes air flow across the whole core, further increasing the intercooler's cooling effect. Bar & plate cores are also great at holding off heat soak for extended durations.
The table shown below illustrates the balance between core style and fin density: Style Fin Density PSI Drop Effectiveness Cost Comments Tube and Fin Low Low Low $$ Medium Cooling Bar and Plate Medium Medium High $$$ Excellent Cooling Dense Bar and Plate High High High $$$ Excessive Pressure Drop With easy mounting bungs (M8x1.25mm) located above and below the core, they can be easily mounted and are perfect for a front mount application.
Reducing induction air temperatures, while significantly improving engine output is easy with one of our Proflow universal intercoolers. Note: Pressure tested to 50 PSI.