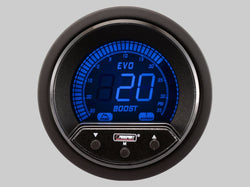 scarles
Prosport Boost Gauge Premium EVO SERIES
SKU: SCR PRS0010
Prosport Electrical Boost Gauge - Premium Evo Series

Any modified vehicle with forced induction needs to have the option to be able to quickly see the air pressure currently entering the engine. The best way to do this is with a boost gauge. These are quality Prosport mechanical boost gauges that are 2 inches in diameter and the boost / vacuum line fits directly into the back of this gauge.

'Äö'úÖ Taps into the vaccuum system of any turbo or super charged vehicle whether its Petrol or Diesel
'Äö'úÖ Has the Peak / Warning system which is programable for you to set at the desired levels
'Äö'úÖ This gauge has a Black bezel, Black case and is Blacked out when off.
'Äö'úÖ Comes in 4 changeable colors, Blue / Green / White or Red.
'Äö'úÖ Comes with the high quality SWISS stepper motor system.
'Äö'úÖ Gauge face shows -30 VAC to 35 PSI
'Äö'úÖ 52mm Gauge (2" diameter)
'Äö'úÖ Illuminates when wired up
'Äö'úÖ Electrical boost gauge
'Äö'úÖ Reads up to 35PSI
'Äö'úÖ 12 Month Warranty

Includes:
'Äö'úÖ Electronic Boost Gauge
'Äö'úÖ Mounting hardware ( Mounting cup not included)
'Äö'úÖ Clear Vacuum Hose
'Äö'úÖ Vacuum T-Adaptor
'Äö'úÖ Instructions.

Scarles has a huge range of various gauges for your vehicle, whether you need to measure your water temp, oil pressure or exhaust temperature we have you covered.