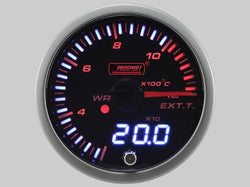 scarles
Prosport Exhaust Temp JDM Series
SKU:
Prosport EGT Gauge JDM SERIES - 52mm

Ideally these are suited for diesel vehicles, especially those running an aftermarket turbo for increase power and performance. Your exhaust gets extremely hot under pressure and load when you are towing for example and it is important you know your temperature to avoid any malfunction with your vehicle due to excessive heat. Now you can easily know the EGT temperature and how your modifications will affect the engine performance.

• Fits any vehicle whether its Petrol or Diesel
• This gauge has a Black bezel, Black case and is Blacked out when off.
• This Electric Gauge will perform a digital sweep, on Start-up.
• Comes with the high quality SWISS stepper motor system.
• Electrical Exhaust temperature gauge
• Gauge face shows 200°-1200°C
• 52mm Gauge (2" diameter)
• Illuminates when wired up
• 12 Month Warranty

Includes:
• Electronic EGT Gauge
• K type Probe/Sender
• Mounting hardware ( Mounting cup not included)
• Instructions.

Scarles'Ñ¢ has a huge range of various gauges for your vehicle, whether you need to measure your boost levels, water temp or oil temperature we have you covered.