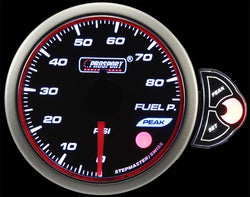 Scarles
Prosport Fuel Pressure Gauge 52mm Halo Series
SKU: SCR PRS0065
Prosport Fuel Pressure Gauge 52mm Halo Series
The halo series Fuel Pressure gauge has a range of 0-85 psi scale with a full 270 degrees LED 3 color display. This Electric Fuel Pressure gauge will perform the pointer sweep/self-check on start-up and shut down!
Set the warning level anywhere on the gauge to warn you if your Fuel pressure drops below your pre-set limit. Also, one-touch peak recalls to see the max pressure you have attained.
Also, enjoy 6 stages of dimming for both day and night operation modes.
Comes with 1/8"NPT Fuel Pressure Sender.
Fully programmable warning function and peak memory.
0 - 85 PSI Display scale. Amber/White/Blue
(Includes: Fuel Pressure Sender, quick connect pigtail wiring, instructions, Daisy Chain harness, visor/hood and decal.)