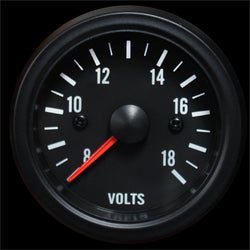 Scarles
Prosport Volt Gauge 52mm Basic Black Series
SKU: SCR PRS0072
Prosport Volt Gauge 52mm Basic Black Series
Monitor your engine functions with one quick glance and notice any problems before your vehicle leaves you stranded.
Don't wait for your factory battery light to come on, once that happens you'll be walking home! Don't ignore your electrical system, if you have a system, gauges, turbo timers, etc.. you want to keep an eye on your voltage.
This Volt Gauge will come with a twist on mounting ring and instructions. 8v~18v scale.
Scarles has a huge range of various gauges for your vehicle, whether you need to measure your boost levels, water temp or exhaust temperature we have you covered.