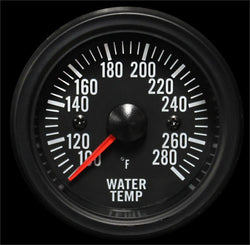 Scarles
Prosport Water Temperature Gauge 52mm Basic Black Series
SKU:
Prosport Water Temperature Gauge 52mm Basic Black Series
Powered by a rugged movement and utilizing only top-grade sending units, these 270degree full sweep electrical gauges are durable, reliable, safe, and easy to install. Monitor your engine temperature with more precision.
(100-280F includes Sender, Twist on mounting ring and Instructions)
Temperature Sender is only 1 inch long with 1/8"NPT threads. (Included)
Scarles has a huge range of various gauges for your vehicle, whether you need to measure your boost levels, water temp or exhaust temperature we have you covered.